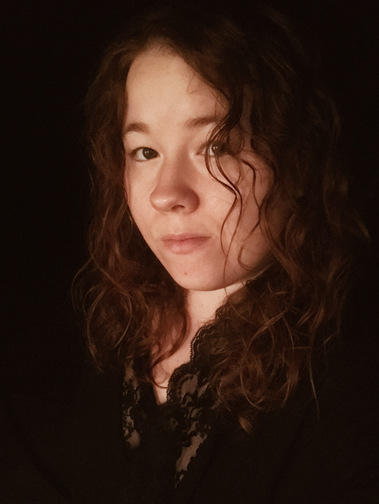 Biography
Tracy grew up in the small town of Centerville, California. Surrounded by oak trees and wildlife on a ranch nestled beneath the Sierra Nevada foothills, she developed her artistic voice early on. She would frequently draw animals and fantasy creatures in various narratives. Her father and sister encouraged her by helping create stories to illustrate and supplying her with some of her first illustration tools including a drafting table and massive pads of paper that would quickly be covered in drawings as well as an appreciation for geometry and the mathematics of design.

As Tracy grew, she found opportunities in the local community to have her work adorn various civic and private collections. She was recognized by the Bank of America in 2008 with a Fine Arts Recognition Award. She attended Fresno City College and College of the Sequoias where she completed an Associates in Studio Art. Tracy also completed an apprenticeship and permaculture program at Cal Earth Institute of Earth Art and Architecture where she learned real-world applications for her love of nature that would combine her artistic and design skills.

Tracy and her husband Parker became owners and operators of an organic farm in 2015 where Tracy's work continued to combine art and care for the environment. Through teaching garden classes, running a Community Supported Agriculture subscription, designing websites, and managing the operations of farming, she found connection with community that continues to drive her artistic passion to this day.
Tracy is currently a freelance illustrator and designer as well as the Assistant Director of Arts Visalia Visual Arts Center located in Visalia, CA. Her community work continues through her work with Arts Visalia in the form of designing and implementing arts education programs for youth and adults. She is striving to complete a Bachelors Degree in Psychology that she hopes will one day allow her to further her work into the field of art therapy so that she may help others with the skills that have given her so much in life.
Artist Statement
My art is a means of expressing the inner nature of human life. Through allegory and cultural mythological cues, I strive to give voice to those fleeting states of being that are not easily put into words. Emotive states and liminal experiences that are not often captured in the dramatic narratives that are showcased in media representation are explored through my use of line, color, and composition.

I work with various media but return to the expressive use of line in nearly all of my work. I find that the most simple of gesture can achieve a visual statement that is sufficient in communicating the intended expression of a piece.
My use of figures and depictions of animals and natural phenomena draws from my early years where I found that relating to the natural world around me was preferable to the constructed world of cities, schools and social circles. In the quiet relationships that I formed with the natural world I found a view into inner life that I wanted to share with others. This is the view that I strive to create in all of my work. Those inner observations of the core being that can not be easily put into words but is instantly recognizable through sight.